Bluebeam Revu 20: Instant teamwork. Better building.
Bluebeam® Revu® gives you the smart tools you need to keep your team in sync and get the job done right—anytime, anywhere.
Simplify tasks from start to finish.
Stop juggling platforms. Revu offers a wealth of powerful tools and plugins to help simplify tasks from kickoff to handoff.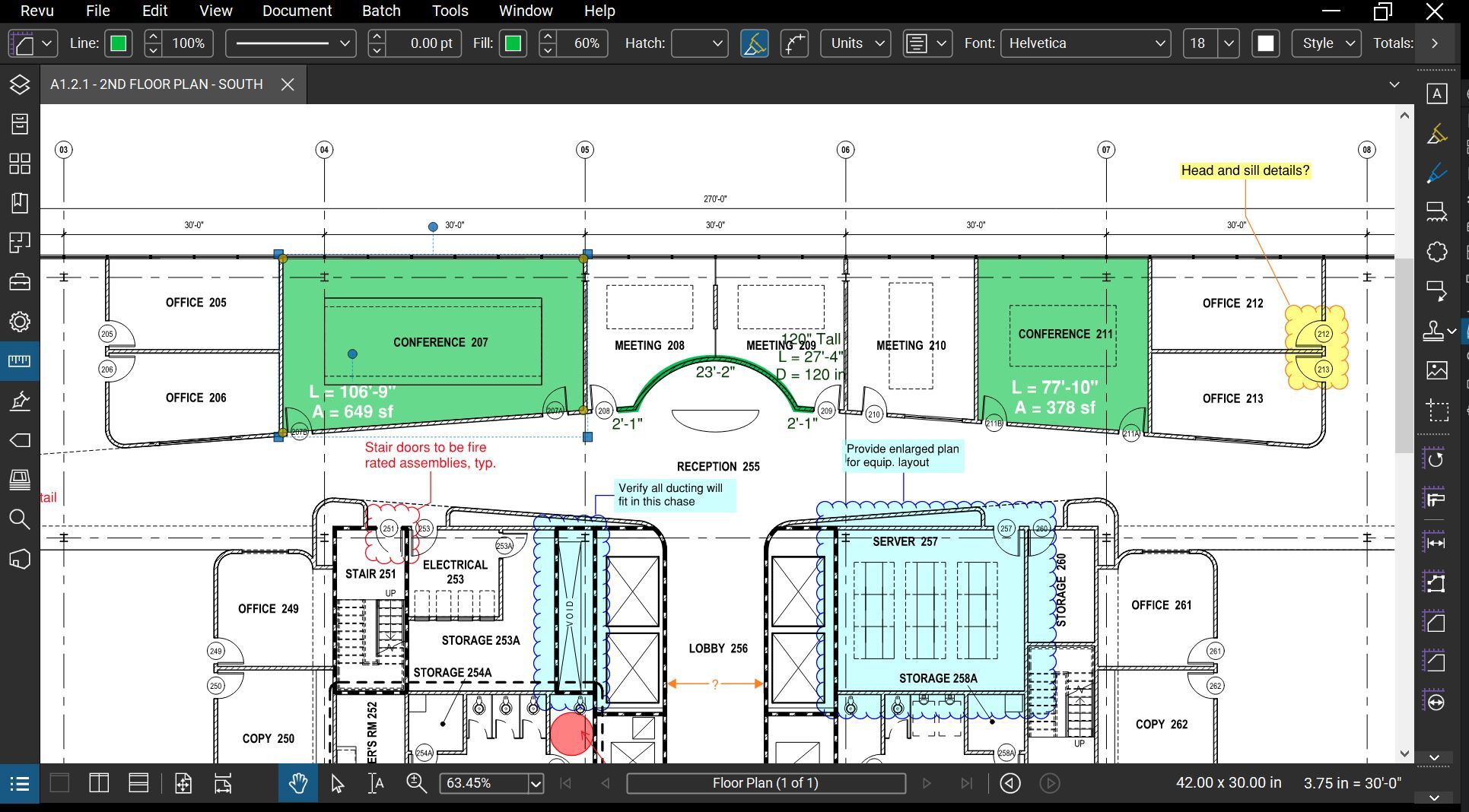 Build better bids
Intuitive measurement tools improve takeoff speed and accuracy
Keep documents organized
Smart markup, hyperlinking and automation tools keep RFIs, submittals, and punch list items clear and organized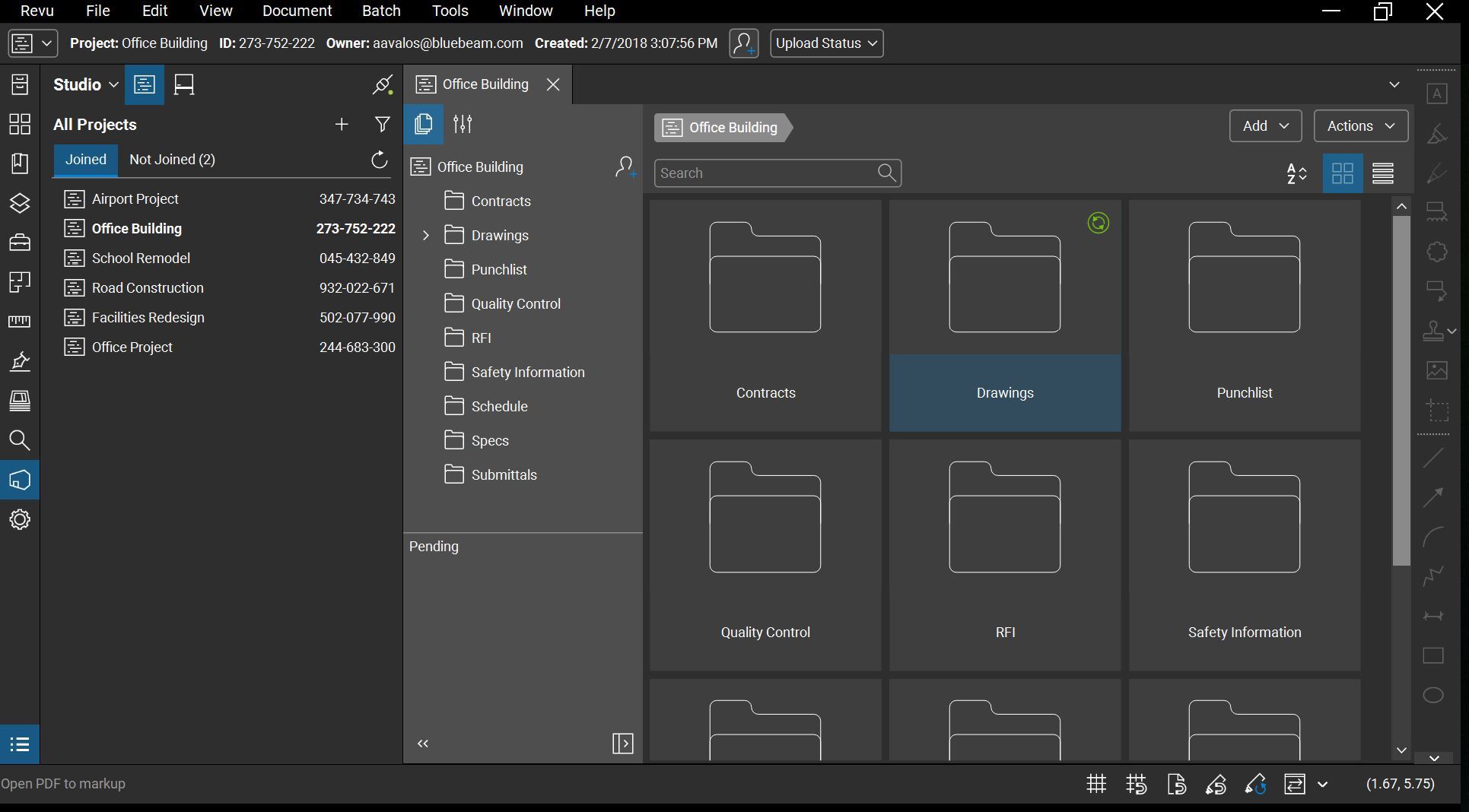 Finish projects on time, every time.
Revu gives you a centralized place to create, annotate and share documents, so projects always stay on track and teams are aligned every step of the way.
Manage projects in the cloud
Store and manage entire projects in the cloud using Studio® Projects and invite teammates from anywhere to edit
Improve QA/QC speed and accuracy
Automatically track edits in the Markups List and easily communicate changes for faster, more accurate quality reviews
om anywhere to edit
Get more done, together.
Connected teams are efficient teams. Studio in Bluebeam® Revu® allows you to easily invite team members from anywhere in the world to collaborate in real time and finish projects faster.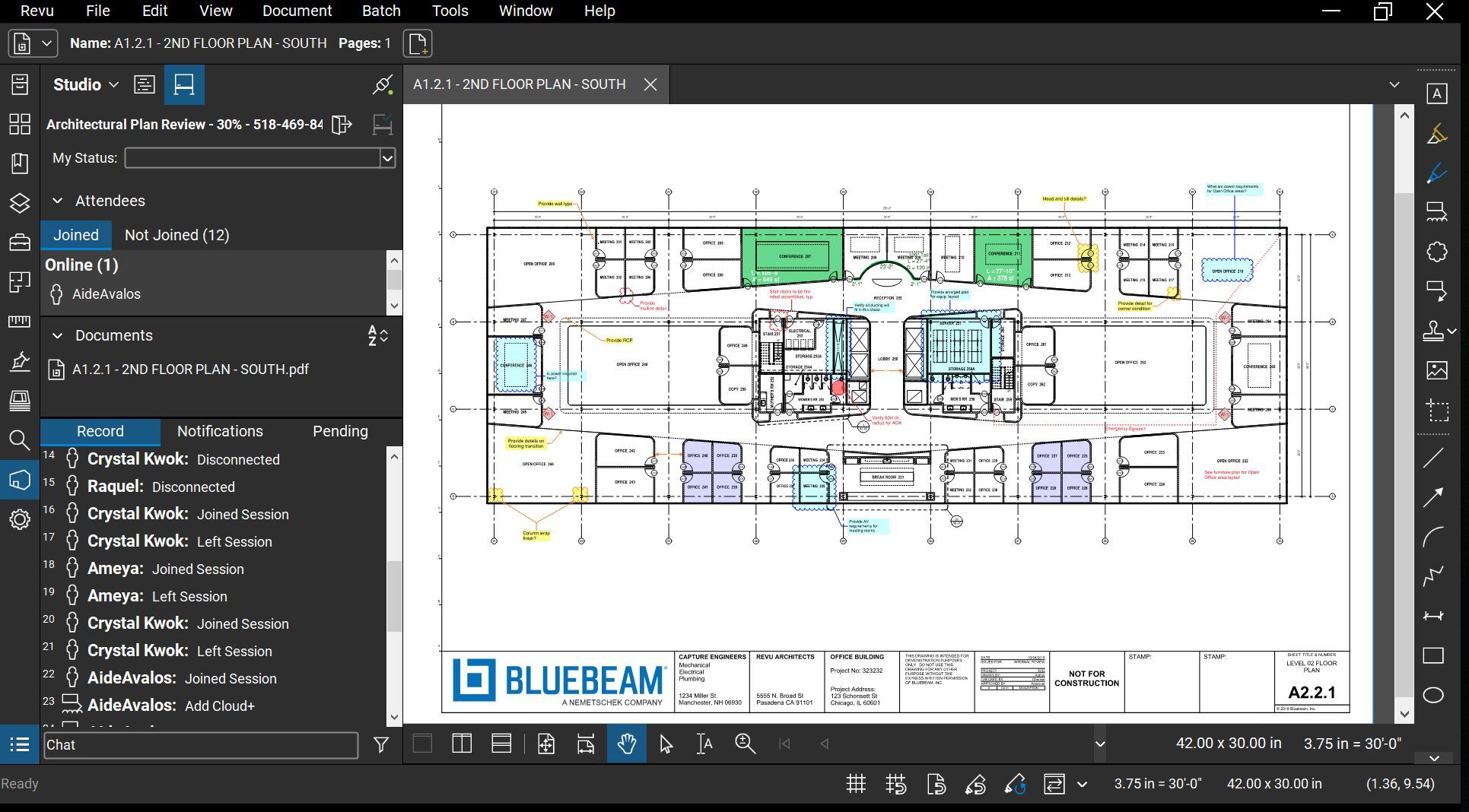 Keep track of who said what
Mark up at the same time together and automatically track all edits
Speed up design reviews
Live activity feed helps improve communication across teams
What's new in Revu 20.1
Revu 20.1 expands on the Markup tool and Studio enhancements in Revu 20.0, and also includes updated support for SharePoint, so you can securely authenticate Revu and open documents in any modern browser.
SharePoint
Updated support for SharePoint, so you can open PDFs stored in SharePoint securely in Revu from any current browser.
Studio
When signing into Studio, you'll now need to enter your email address before you'reprompted for a password.

Admins now have the ability to securely reassign markup ownership when a collaborator permanently leaves a Session, saving time and reducing confusion in the process. New owners will also receive an email alerting them to their new status. Changes in ownership will be noted in the Session record and can be included in summaries and reports.
Markups
A visual indicator will appear on Markups that have replies in the Markups list, so you're always aware when comments require your attention. Clicking this icon will take you directly to the replies in the Markups list, or you can hover over the icon to see a preview of the reply.
The "Apply to Pages" functionality for markups is improved, letting you apply markups to a custom range of pages or to all Even, Odd, Landscape, or Portrait pages.
When placing several markups, you'll now see a progress bar so you can track the process.

The behavior of leader lines in Callouts and Text Boxes is improved and will now automatically adjust to prevent overlap when the shapes of those markups are changed.
Measurements
Real-time measurement values are now shown in a small tooltip-style table in the lower-right corner of the drawing as you place measurements.
Plugins
Added support for SolidWorks 2021.

PDFs generated using the Batch PDF function in the Word plugin can now automatically generate bookmarks based on names of files in the batch.

Bookmark configurations can be saved in the ACAD plugin.
Which edition of Revu is right for you?
Download a free 30-day trial of Revu