Revit MEP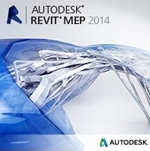 Product Description
Revit MEP is the building information modeling design and documentation software for MEP engineering. Use an intuitive design tool that works the way engineers think. Minimize coordination errors between mechanical, electrical, and plumbing (MEP) engineering design teams; collaborate with architects and structural engineers using the Revit platform and building information modeling workflows; and realize better building performance analysis support for engineers.
Get the benefits of Revit MEP
With Autodesk Revit MEP you can:
Experience a more seamless workflow with external applications
Improve duct and pipe calculations using the API
Experience greater design capabilities
Easily add endcaps to duct and pipe segments to create properly closed networks for more accurate air flow
Obtain faster building performance analysis
Get a better view of building assemblies and construction sequencing with displaced views, which allow you to create exploded models
Get more out of visualizations with new view navigation and performance improvements when you are navigating a 2D view or a 3D view
Change view properties temporarily without affecting the saved view state
Obtain enhanced performance and greater visual fidelity
Enjoy more flexible and efficient data reporting
Crop non-rectangular model areas
Obtain improved productivity with a new dockable window framework
Save time and gain support compliance with common dimensioning standards
Obtain increased access to BIM data
Gain expanded design functionality
Finding out more on...