AutoCAD Mechanical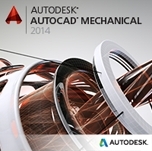 Product Description
AutoCAD Mechanical design and drafting software is AutoCAD software for manufacturing. It
includes all the functionality of AutoCAD, one of the world's leading 2D CAD mechanical
design software applications, plus libraries of standards-based parts and tools for automating
common mechanical CAD tasks and accelerating the mechanical design process.
Get the benefits of AutoCAD Mechanical
With AutoCAD Mechanical, you can:
Obtain layer management system automatically
Eliminate the need for time-consuming redrawing
Create parts according to your specifications and save time when building mechanisms manually with new machinery generators and calculators
Quickly access files, blocks, line types, and styles
Create multiple dimensions with minimal input. Abbreviated dialog boxes and smart dimensioning tools force overlapping dimensions to automatically space themselves more appropriately
Finding out more on...