AutoCAD Map 3D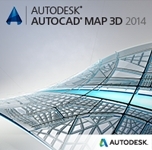 Product Description
AutoCAD Map 3D software provides access to GIS and mapping data to support planning, design, and data management. Intelligent models and CAD tools help you to apply regional >and discipline-specific standards. Integration of GIS data with your organization helps to improve quality, productivity, and asset management.
Get the benefits of AutoCAD Map 3D
With AutoCAD 3D Map 3D mappingsoftware, you can:
Transform mapping collaboration in an easy-to-access online workspace
Make CAD and GIS integration more practical and easier
Finding out more on...