Autodesk 3ds Max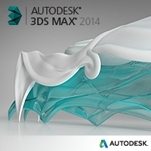 Product Description
3ds Max software provides a comprehensive 3D modeling, animation, rendering, and compositing solution for games, film, and motion graphics artists. 3ds Max 2014 has new tools for crowd generation, particle animation, and perspective matching, as well as support for Microsoft DirectX 11 shaders.
Get the benefits of 3ds Max
With Autodesk 3ds Max Design software, you can:
Create moving or idle crowds with the new Populate Crowd feature that offers high-level control of near believable human motion
Load vector graphics as texture maps and render them at dynamic resolutions
Composite more quickly and effectively with a new Perspective Match tool
Create and edit higher-quality assets
Experience more control with new capabilities that allow you to pan and zoom the viewport as though it were a 2D image, without affecting the actual camera position
Finding out more on...