AutoCAD Raster Design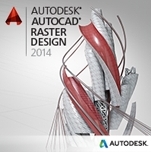 Product Description
With powerful raster editing and raster-to-vector conversion tools, Autodesk AutoCAD Raster Design software helps you easily edit, enhance, and maintain scanned drawings and plans in a familiar Autodesk AutoCAD environment. Make the most of raster images, maps, aerial photos, satellite imagery, and digital elevation models.
Get the benefits of AutoCAD Raster Design
With AutoCAD Raster Design software, you can:
Save time using image display features
Obtain improved image quality with editing and cleanup tools that help you despeckle, bias, mirror, and touchup scanned design information
Easily erase raster images, lines, arcs, and circles using standard AutoCAD commands on raster regions and primitives with raster entity manipulation (REM)
Create lines and polylines from raster images with vectorization tools
Incorporate geospatial raster data with image transformation functionality
Finding out more on...