What is Dynamic Fill?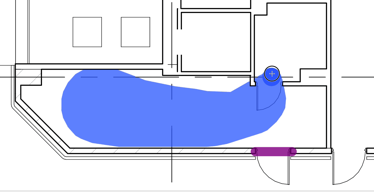 The tool will detect shape boundaries and uses those shapes to create different measurements! Dynamic Fill tool automatically creates Spaces and measurement markups from shapes on the content layer of a drawing.
Why is it powerful?
Have you ever had to manually spend time clicking around oddly shaped room with many corners to create a measurement? Dynamic Fill eliminates the need to do that by automatically detecting shape's boundaries and fill in those shape to be used for measurements.
So how do I use Dynamic Fill?
To begin using Dynamic Fill, go to:
Tools > Measure > Dynamic Fill
A new toolbar will appear, from there you can change the different settings such as Boundary Size, Fill Size and Speed, this will allow you to match the drawing as close as possible.
You may draw across any opening with boundary tool which will help you close off opening.
Next, select the Fill tool and fill in the area you wish to markup.
Once an area has been filled, you may select which markup you would like to use. You may even select multiple markup at once from Space Markup, Polygon Markup, Area Measurement, Polylength Measurement, Perimeter Measurement, Volume Measurement.
That's all, in just a 5 simple steps, you have performed multiple markups on a complex room layout!
So, what's next? Well, for our next blogpost, we will delve into how to seamlessly link the markups you just made into data in Excel by using Quantity Link.
---
Want to learn more about Bluebeam? Visit our product page: