V-Ray for Rhino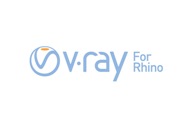 Product Description
V-Ray for Rhino offers visualization professionals a state-of-the-art solution that generates high-quality images of unparalleled realism. The plug-in works with Robert McNeel & Associates' Rhinoceros, which is one of the most popular Windows-based NURBS modeling tools available today. Rhino users in all fields - from engineering and product design to 3D animation - rely on V-Ray as a quick, easy and cost efficient way to render their most cutting-edge images.
Features of V-Ray for Rhino
Dome Light - create simple, artifact-free image-based lighting using the Dome Light. Its powerful importance sampling analyzes HDR images and optimizes light tracing and GI precision
V-Ray Proxy - an indispensable tool for managing scene memory and efficiently rendering massive amounts of geometry. V-Ray Proxy objects are dynamically loaded and unloaded at render-time, saving vital RAM resources
Lens Effects (Glare / Bloom) - simulate the natural lens effects that occur when photographing highlights
Dispersion - trace and refract light based on its wavelength
Ambient Occlusion -generate shading based on an object's proximity, and enhance GI details without significantly increasing render time.
V-Ray RT
V-Ray Wrapper Material
V-Ray Express
HDR Light Studio Support
Finding out more on...