Revit Architecture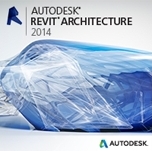 Product Description
Autodesk Revit Architecture building design software works the way architects and designers think, so you can develop higher-quality, more accurate architectural designs. Built for Building Information Modeling (BIM), Autodesk Revit Architecture helps you capture and analyze concepts and maintain your vision through design, documentation, and construction. Make more informed decisions with information-rich models to support sustainable design, construction planning, and fabrication. Automatic updates keep your designs and documentation coordinated and more reliable.
Get the benefits of AutoCAD Revit Architecture
With Autodesk Revit Architecture you can:
Experience a more seamless workflow with select external applications
Obtain faster building performance analysis
Model, edit, and document stair and railing designs more easily
More easily manage elevation cut-line configuration
Get a better view of building assemblies and construction sequencing
Get more out of visualizations when navigating a 2D view or a 3D view
Save time previewing designs
Gain higher performance and greater visual fidelity
Get more flexible and efficient data reporting
Highlight specific views more easily
Save time and gain support compliance with common dimensioning standards
Get greater control of schedule formatting
Expand design functionality
Finding out more on...