AutoCAD Architecture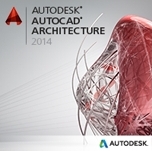 Product Description
AutoCAD Architecture software is the version of AutoCAD software specifically for architects. Architectural drafting features enable you to design and document more efficiently, in the familiar AutoCAD environment. Start working in AutoCAD Architecture and experience productivity gains right away, while learning new features at your own pace.
Get the benefits of AutoCAD Architecture
With Autodesk AutoCAD Architecture drafting software, you can:
Automatically attach property set definitions to architectural objects
Enjoy a more efficient workflow with new command line search features
Resume work more quickly in the event of a corrupted file
Improve documentation throughout the drafting process
Save time by eliminating the need to create complex slope changes graphics
Reduce the likelihood of errors with new display capabilities
Clean up drawings and move unused layers more efficiently
Increase the fluidity of your design process with new block swap features
Streamline door and window placement with new door enhancements
Easily place doors and windows flush with the edge of a wall
Finding out more on...